Introduction.
TrainHeroic is a software solution for strength & conditioning coaches and athletes to plan, log and analyse strength (gym) based training. It comes in two parts; one is for us coaches, where we do all the periodisation, planning and analysing. The other is for you athletes, who can then see your training schedule, log your sessions and see your training results.
There is also a communication feature (TH Chat) that bridges the two sides of the software and allows athletes to message me, ask questions and send videos for technical feedback. As a coach, this feature lets me motivate my athletes, either individually or as groups (depending on the service they use).I first became aware of TrainHeroic after speaking at the International Endurance Summit in 2018, where I bemoaned the fact that, although Training Peaks was a fantastic software for endurance training, it was particularly poor at logging any strength & conditioning work athletes may be doing.
To my surprise, the co-founder of Training Peaks, Dirk Friel happened to be in the audience and pointed me in TrainHeroic's direction. For me, the main strength is that TrainHeroic positions itself as "strength & conditioning software", rather than "personal training software" and a lot of the features reflect that thought process, allowing me, as a coach, greater insights with detailed analytics and performance statistics not (to my knowledge) available with similar products.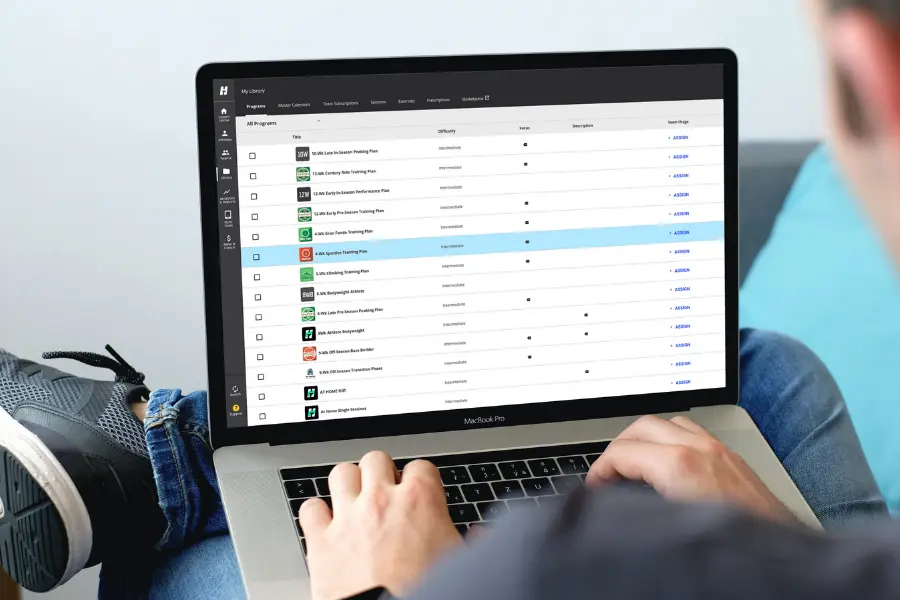 Because TrainHeroic is a cloud-based app, there's no need for the coach and athlete to be in the same location. This frees athletes up to train at times and in locations that suit them, meaning there's no more waiting for the coach's calendar to open up. It also means that you can work with specialist coaches, rather than whoever happens to be available in your local gym.
From my point of view, it means I can do all my programming for multiple athletes at sensible times of the day, not having to work anti-social hours. It also means I can work specifically with the cyclists I'm interested in coaching and not whoever is local to me! It's a win-win.
How Much Does TrainHeroic Cost?
The TrainHeroic app is free for athletes (I pay as a coach), but you will need to pay for a coach to populate your calendar with your training program. There are three different options to do this:
Programs & Teams.
Both Teams and Programs can be bought directly from the TrainHeroic Marketplace, however, I have them directly available via my prices page.
Programs.
Training programs are fixed-term plans, designed for a specific purpose, such as a 12-Week Century Ride Training Plan or a 9-Week Off-Season Base Builder.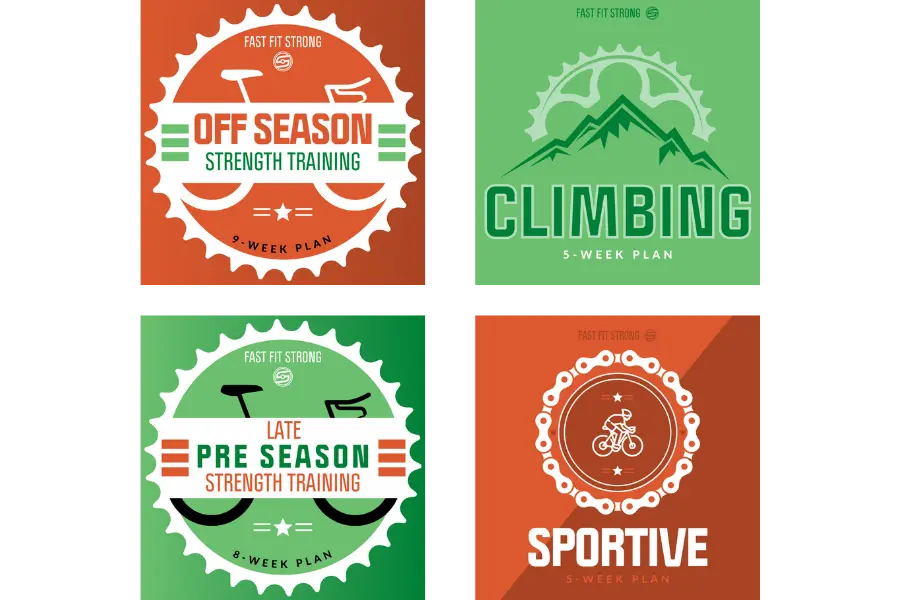 Programs tend to be more for athletes who have some understanding of what they're doing and simply want to train for a particular event. Once you purchase a program, you keep access to it for 12 months. You can start it whenever you like and you can even repeat it multiple times if you wish.
Teams.
If you'd prefer programming with regular updates, teams are for you. With teams, you pay a monthly subscription fee (you can cancel whenever you like) and your sessions are updated weekly.
At present, I only have one team option, called Off-Bike Strength, which provides a solid "general" program based around a northern hemisphere cycling season. This means sessions peak and trough depending on your likely riding commitments.
If you'd like me to write a different team plan, drop me a line and I'll consider it!
One-on-One Coaching.
For riders who require a bespoke solution that supports your cycling training (whether you have a cycling coach or not), you may want to consider one-on-one coaching.
Unlike Teams and Programs, you can't purchase this via the TrainHeroic Marketplace. This is because I'll need to have a consultation with you to find out more about your training goals (both cycling and gym-based), experience, injury history and what equipment you have access to.
More importantly though, it gives us both an opportunity to gauge whether we'll have a good working relationship. In my experience, this is the most important factor in whether you'll get the best out of your training.
If you're interested in this option, feel free to arrange a free consultation at a time that suits you by clicking this link.
Logging Sessions.
As with most tracking software, TrainHeroic lets you log your own sessions, either as you do them (preferred) or retrospectively and over time, you can review what you've done and see your progress.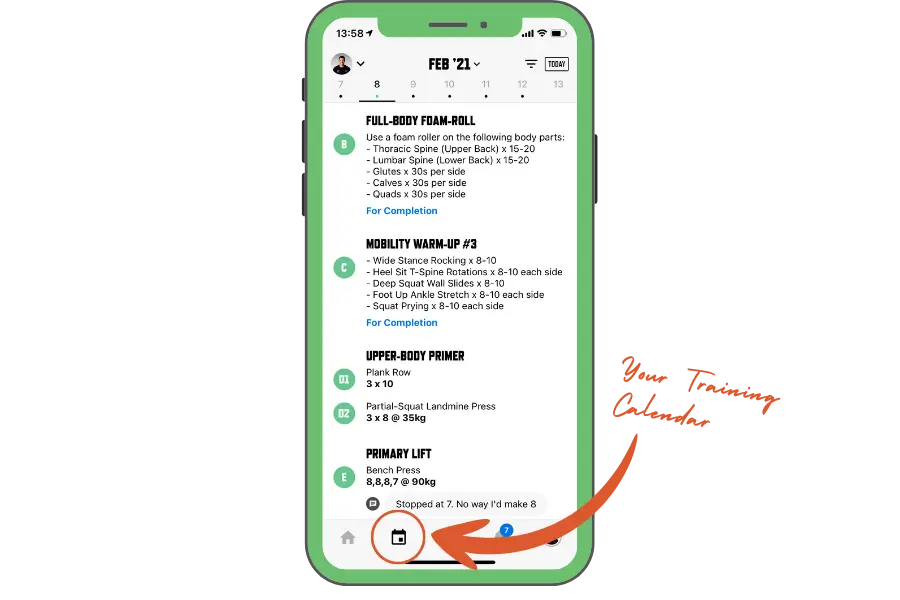 From the first time I used TrainHeroic, I found that I was able to navigate the app and use the features very quickly and easily. It's easy to use, straightforward and logical. It provides you with the functions that are important without bombarding you with irritating features that aren't.
One of the great features that attracted me to TrainHeroic was its focus on athlete wellness. At the start of each session, you will be prompted to complete a simple 5-part questionnaire about how you're feeling and how you've responded to recent training sessions. This is critical information as a coach (especially if you are completing concurrent cycling training and we are remote from each other), as I can use this info and act on it.
See Your Results.
Once you've logged your first exercise, you'll have access to your results screen, where you can see an overview of the work you've done. In sessions, you'll also be able to quickly see your history for that exercise, meaning you'll be able to select weights that are much more appropriate.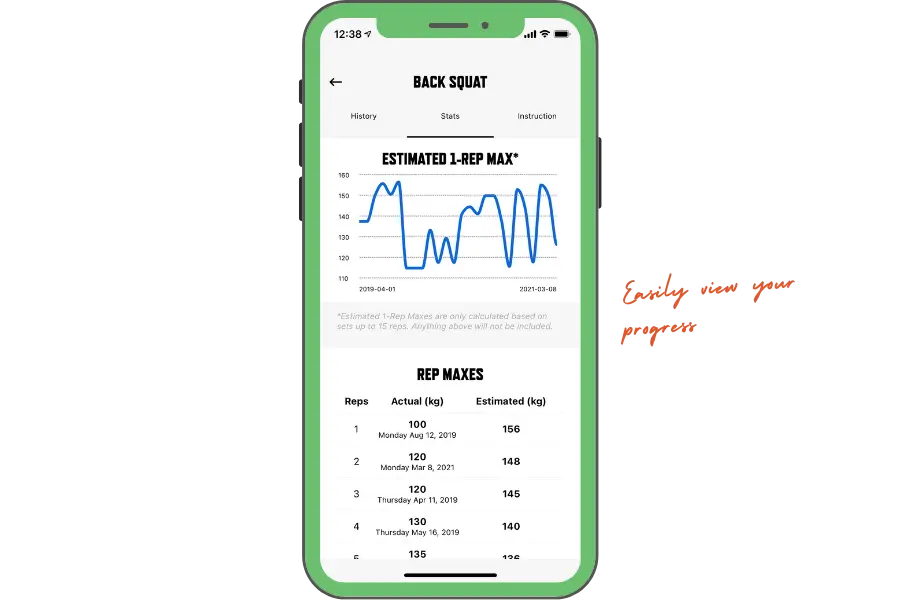 Swap Exercises.
After our consultation, I write a program based on the equipment you (normally) have available to you, however, your situation may change. For example, you may be working away and have to use an alternative or hotel gym, or you may pick up an injury which means you need to alter your sessions temporarily.
In either of these scenarios, you will need to change the prescribed exercises. With TrainHeroic this is easy to do and your work will be logged against the correct exercise and will count towards your session totals!
Move Sessions.
Similarly, circumstances may mean that you can't complete your session on the set day. In this case, TrainHeroic lets you move the session within your calendar.
You can either do this in advance (i.e. move next Wednesday's session to Friday) or at the time you do the session. So, when you come to do the session on Friday, press to start Wednesday's session and you will be prompted to "log this session today?".Easy peasy.
Easy to Build Your Own Programs and 'Sessions' (AKA Workouts)
Another great feature is the ability to create your own sessions.
Need to do an ad hoc recovery or mobility session? Then you can create your own, log it and I can see your results.
Communication with Your Coach (me).
As I mentioned above, the success of your program largely depends on your relationship with your coach (i.e. me). As we won't see each other in person, this must come from other forms of communication.
Other than logging your sessions and letting me analyse the results, TrainHeroic has two main ways of coach/athlete communication.
TH Chat
TH Chat is the inbuilt messaging feature within the TrainHeroic app. Although it's slightly more limited than dedicated messaging apps (such as Whatsapp or Messenger), it has many of the same functions.
You can send me text messages, gifs and images as well as videos. This is great for athletes sending videos of themselves for a form check (something I regularly recommend all my athletes do).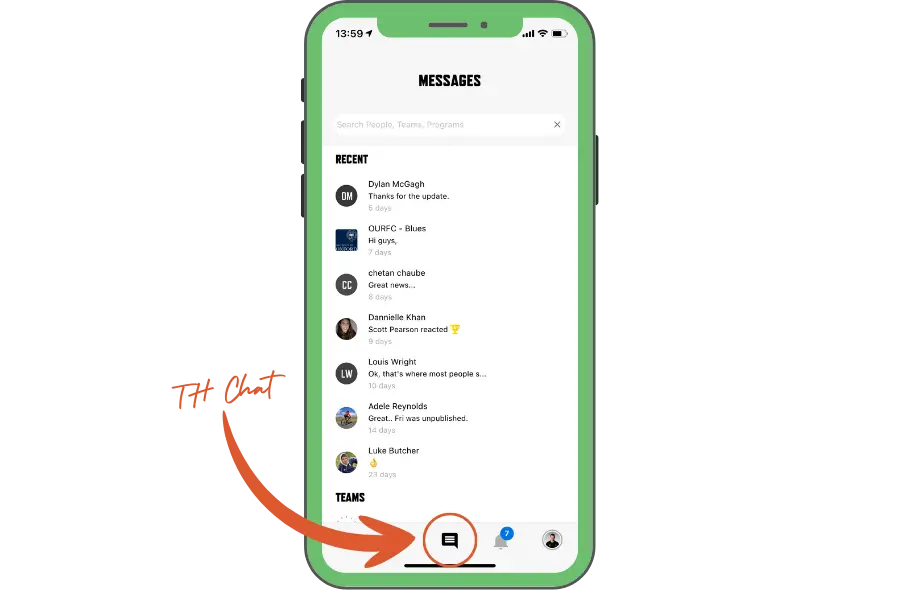 Exercise & Session Comments.
Possibly the most important communication feature is the ability for you to add comments to each exercise and on each session. For athletes this acts as a training diary; personally, I like to look back at past sessions/exercises and read what I was thinking/working on in that session.
When I'm analysing athletes' sessions, these comments add context. Comments like "I couldn't increase the weight in this session because I was tired from yesterday's 3hr ride" or "My left ankle is stiff, which pushes my hips over when I squat" allow me to act on them and modify your sessions accordingly.Really valuable for both of us.
Remote Training: My 3 Programming Methods for Amazing Client Results
Drawbacks.
As good, easy to use and convenient as TrainHeroic is, it isn't perfect.
There are a number of things on the coach's side I would improve (don't worry, I've contacted [email protected] and given them my views).
Below are the two main things I think would make TrainHeroic even better.
Vomule Calculation.
As you log your training data, TrainHeroic calculates your volume load (otherwise known as tonnage). This is a simple calculation, taking the load lifted and multiplying it by the number of reps you complete.
For example, let's assume you squat 50kg for 8 reps. That would give you a volume of 400kg.
However, this has a number of drawbacks. Firstly, it doesn't account for exercises that are either unilateral.
If, for example, I now prescribe 5x Split-Squats @ 20kg, you would get a volume load of 100kg. However, you would do the Split-Squats on both legs, so the actual volume would be 200kg.
Also, if you held a pair of 20kg dumbbells, rather than using the total load of a bar, the volume would now be 400kg.
The only way around these problems is to program two separate exercises for each limb (i.e. Split-Squat Left and Split-Squat Right) and to record the total load of the dumbbells (40kg). In my opinion, this is impractical and confusing.
A more nerdy drawback of this calculation is that not all reps are equal and don't take effort into any kind of consideration. In my squat example above, each of the 8 reps has an equal score of 50kg. However, it's reasonable to say that the first couple of reps would feel easier than the last two and should therefore be weighted as such.
This concept could be extended further to take the effort level of the athlete into account. Let's assume two athletes both complete the 8x 50kg squats. Athlete A finds them easy and indicates she could have done at least 3 more reps at that weight, however, Athlete B found them very difficult and could only just manage the eighth rep.
It would be great if these subjective measurements of difficulty were taken into account when calculating volume, similar to how the TSS score is calculated in Training Peaks.
If you'd like to know more about strength training volume, read this article.
Not integrating with other software.
TrainHeroic does a great job of attempting to answer the needs of both athletes and coaches when it comes to strength-based training, however athletes' needs vary and there's no way any software solution can solve the diverse requirements of athletes from a multitude of backgrounds.
An effective solution to this would be to allow TrainHeroic to integrate with 3rd party software, which will improve the experience for athletes and coaches alike.
Logging and analysing aerobic training isn't great in TrainHeroic (it's an app for logging strength training after all). This is fine by me because most dedicated endurance athletes tend to log this kind of training in other software specifically designed for this purpose.
What I would like though is the ability to see what my athletes are doing from a riding point-of-view, so I can plan their strength sessions around their cycling training. Currently, there's no way to integrate TrainHeroic with any endurance-based software, which is doubly frustrating when you consider TrainHeroic's development is under the umbrella of PeaksWare, the company that also develops Training Peaks.
I have sneaking suspicion things may be changing soon, however, as I was invited to a meeting recently with the Training Peaks development team in Boulder and asked for my opinions on how the two apps could better integrate. Here's hoping!!
It would also be great to have some kind of integration with nutrition logging software (such as MyFitness Pal). This would let me collaborate closely with a trusted nutritionist.
Is TrainHeroic Right For You?
I hope this brief article has given you more knowledge on whether TrainHeroic fits your needs. In my opinion, It's the best strength & conditioning logging software on the market and is a must for anyone who takes their training seriously.
If you're an athlete who needs to log your off-bike sessions there are many apps on the market, so use this information and make your choice.
Ultimately, it's the work you do, not the app you record it on that will improve your performance, reduce your injuries and keep you fit, happy and healthy.
That's what I'm here for, so if you're interested in taking your training to the next level, book a free, no-obligation consultation by clicking the button below.